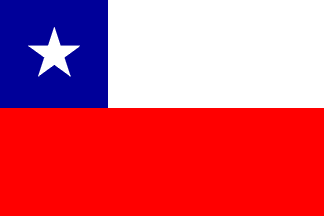 tl;dr skip the last two paragraphs
Sometimes in life, you come to a point where you decide that it's time for a change. Granted, for some of us, that's more often and more drastic than others, but it eventually happens on some level to everyone. This being the case, my husband and I have both decided that it's time for a change for us. Both of our careers have stalled, and based upon the current overall situation in the academic world, it's unlikely that things will start looking up anytime soon. We've both been dissatisfied for a long time. Fortunately for us, we have something that shamefully few people in this world have. Options.
After many months of discussions and planning, we were both able to move forward with our plans and see how things turned out. Fortunately for us, they have turned out well. Oz and I, both, have been given offers which we have formally accepted, and will be taking jobs in the beautiful South American country of Chile.
South America is currently the "Wild West" of archaeology. The regulations are modest (meaning that you don't have to fill our environmental impact forms every time you sneeze), and opportunity is literally everywhere. Satellite and aerial surveys show thousands of potential sites that have never been catalogued, or even superficially explored. The Black Market is alive and strong, and narcos have routes through large swathes of the countryside. All this happens while a handful of academics, overworked and underpaid, fight to preserve what little is left of the ancient history of these people's culture. In short, this is the adventure that I've always dreamed of.
For those of you not overly familiar with Chile, it's a first world nation. The standard of living is comparable to most Western European nations. It's the most stable nation in South America, with the highest standard of living. It's a tiny sliver of a country seated along the western coastline of the content. The institute that I've accepted a position at is a joint South American/United States (American money, baby! Yay! Dolla Dolla bills ya'll!) Organisation that operates in virtually every country in South America. I'll be heading up their archaeomotry lab (read, I will be their archaeomotry lab) while I re-specialise my field from Near Eastern to Central and South American. Most importantly, though, the beach is 20 minutes away from work by car, and the surfing is awesome.
What this means to you guys…
I'm not leaving the game. In fact, I'll actually be in the same time zone as many of you! Honestly, after a small period of adjustment, my playtimes shouldn't change all that much. I'll be offline for a few days to a week in early June while we move, but once we have internet, I should be on regularly after that. This has actually been on the horizon for a few weeks, now. A handful of you already knew this was coming, but I wanted to wait until everything was official before I made the announcement, so I'd have something concrete to tell you all. This guild has taken a couple of hits, recently, and the last thing I wanted was for there to be uncertainty about the guild leader's status.
Rest assured that I will not be leaving the game, and that after the move, things should stabilise. This is, more or less, the reason that I haven't done much writing for events recently, as making this happen was the primary focus in my life. Now that the wheels are in motion, and we have a time table, I'll get back to doing more guild leadery stuff. Oz and I are incredibly excited about this new direction in our lives and anxious to get started, but I wanted you guys to know that this guild is my home. You lunatics are my family. I'm not going anywhere. …Well I am, but you know what I mean.
—