You know you want it +10 Datacron Run
Primary tabs
Vaila
- Tue, 08/07/2012 - 12:04am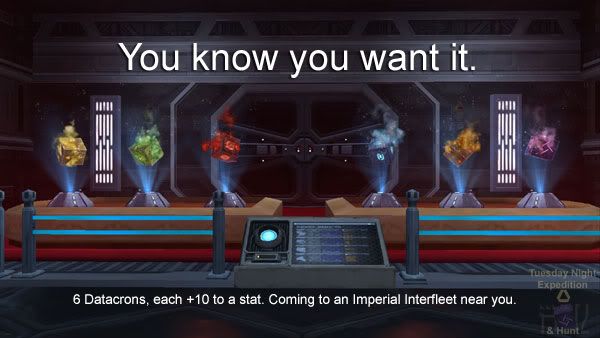 Co-hosted by <Combat Solutions & Sith Lords>, Clan Kilgar and The Tuesday Night Expedition & Hunt.
On Wednesday, Aug 8, we will be discovering the datacron that gives +10 to all stats that is hidden on Imperial fleet.

We will be meeting at 6PM PST/9PM EST at Imperial Interfleet Cantina (right in the middle, lower level, instance 1) or send a tell for an invite.
Everyone is welcome to come and help figure out how to get this tricky prize!

Note: You need to be level 50 to actually click on the datacron.

Note x 2: Bring an MGGS if you have one. (If you don't know what this is, let me know and I'll help you get it.) Or just come without an MGGS. It's all good.
Note x 3: This is on a WEDNESDAY. August 8th.

If you need more information on an invite, ask in guild chat or send a message to Ratlash or Ostillio.